Well, let's look at the definition of appeasement. That simply means "to appease." Therefore, we must look at the definition of that word too. Here's what dictionary.com has to say about "appease."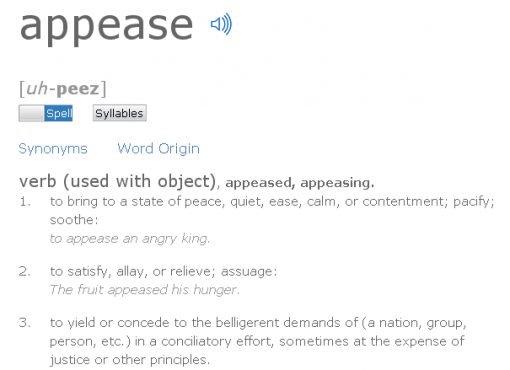 Lifting economic sanctions on Iran would constitute appeasement. But unfreezing their assets (one hundred billion dollars) and giving them the ability to continue their nuclear program and allowing them to build missiles is not appeasement, that's waving a white flag from the top of the Washington Monument.
For goodness sakes, why are we negotiating with Iran at all? The agreement as it is now is 159 pages in length. That agreement should be one page and it should read,
"HELL NO WE'RE NOT GOING TO LET YOU GET YOUR HANDS ON A NUCLEAR BOMB SO YOU CAN DESTROY ISRAEL!!!"
End of negotiations.
Related Posts: