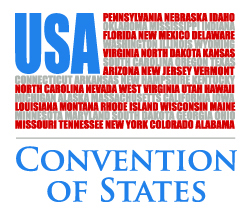 Our Founding Fathers were some very smart men, especially that George Mason fellow. He thought as designed, that Congress wielded too much power and wanted to address that problem within Article V of the U.S. Constitution. To that end, he inserted language that made it possible for two-thirds of the states to call a lmited Constitiutional Convention or a Convention of States. It could be limited in scope and any ammendments ratified by the convention would have to go to all the states for final ratification. Three-fourths of the states would have to give final approval of any ammendment to our constitution.
Sounds simple, doesn't it.
Right now, an organization is helping state legislatures, like the one in your state, introduce legislation calling for a Convention of States. The agenda for such a convention can be limited to a few items including term limits, runaway spending and treaties like this one agreed to today with Iran. This treaty could be overturned in such a convention, but it can't happen until voters throughout America commit to making it happen.
Legislation to call a Convention of the States has been approved by three states (Alaska, Florida and Georgia) and introduced in many others. Most of these states are red states, those who most often vote Republican, but there are a few blue and purple states that have been brought into the mix such as New Jersey, Massachusetts, Virginia and New Hampshire.
I'm calling on my Democrat friends today to make sure to call your state representative and tell them of your support for a Convention of States meeting. My Democrat friends, get involved, become a representative to your state convention, make sure this Iran Treaty is brought up and put on the agenda for your state convention. Term limits are something both Democrats and Republicans can agree on and so is denouncing this horrific Iran Nuclear treaty. Let's think of a few other items to agree on and get ammendments ratified.
If your state representative is wary about calling for a Convention of States or is outright against it, you have the power to vote in a state assemblyperson or state representitave who will agree with your desire to have a Convention of States. This is how powerful the American voter has been all along.
If you want to learn more about the Convention of States, you can read the FAQs at the Convention of States website.
Sign the Convention of States petition today.
Related Posts: